"Whisper My Blog on the Interwebs, boys…" I think this.
What better way to get a blog following, right? Well…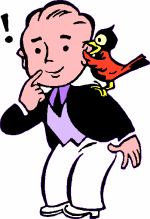 The obvious biblical analogy here would be the sick woman who knew if she would just touch the hem of Jesus' robe, she would be healed. Will my blog be healed….Hum…okay, I won't go there.
Well, in blogging terms, that "proverbial hem" (or Medias Touch, if you prefer) is without a doubt, a shout out from the web Kahunas, like Tim Ferriss or Jon Acuff. Okay, you know what…not even a "shout out". It's more likely that a mere tweet-in-passing would act like a combo pack of a vitamin B12 shot, an IV of Red Bull, plus a bag of crack…to your blog….you know…in blogging terms.
Have you ever hoped for a plug from someone trusted…or a mention from someone at least, sort of, kind of, famous? Or infamous, even…. Snookie…call me.
"Hello there, Rubber, meet my friend Road":
The reality is while a tweet vouch might spike up your hits, it's really only great content and consistency that will keep readers (and even friends) coming back for more, the next day, or sometime soon. There aren't awesome shortcuts for doing a great job.
It's the hard work Tim and Jon invested that made them achieve Web Chieftain status. (A status that I just made up, but is indeed "very important"…indicating almost boundless prowess.)
Yes, they've been clever; and yes they've benefitted from good timing, loyalty, and following their adroit instincts. But, getting to the blogging big leagues wasn't simple or easy. They are but two examples.
Really, Lisa, says who, you?
How do I know, since I'm not in their league…AT ALL… you ask? Gosh, that's sort of pointed, putting it that way…but it's a cogent point.
On a smaller scale, I've done it too. I've blogged consistently for years. I put in at least 1-2 hours a day (and plenty of times more) in investments of time in promotion and activity in social media, in writing, reading, research, and other super spy stuff from the confines of my lair…um…home office….area…er…okay, the couch. My blog crashed twice, completely, over a 10 day period last month. I went to ZERO visits per day, for a total of 4 days. Ouch! Now, not even 14 days later I recovered to 200 visits per day, and I expect that should improve. It's just nose + grindstone.
But, it's even simpler than that. If you read their stuff, Tim and Jon mention this. Themselves. They mention the dedication, the striving, and even the failures on the way.  They try different things, and they don't give up. It's not magic after all.
Here's some Do's and Don'ts so you can blog better:
DO'S
1. Do use [relevant] visuals or video in your blog. Think of a blog this way: It communicates like the telephone, but still needs the visual injection like tv.
1. Do credit other people when your ideas are derivative of theirs. (This way everyone wins.) A link and a mention is appropriate, and appreciated.
2. Do blog consistently.
3. Do have a niche, but don't be afraid to branch out to keep things fresh too. (I'm not sure if you're like me, but I've read enough "My Random Thoughts" blogs to last me 22 dog lifetimes. Yawn.)
4. Do offer something. If your blog is more like a dairy, and you aren't a household name, don't expect to have high visitor traffic. Probably ever.
Remember that essentially your readers are "selfish" and "don't care about you" so you have to bring something enjoyable to them, or interesting. Or just incorporate some of these emotions: love, shock, anger/outrage, "tears"/loss, joy, excitement, and so forth, to make it worth reading.
Present company excluded…of course? …Very funny. Let's be serious, you, too, will stop reading this if you get bored, or it isn't really helping you, somehow. However, if not, I love you.  (And I wish I was you.) But, now I digress.
DON'TS
1. Don't expect people to think your life is interesting. If it really was, you wouldn't have that much time to blog. (Don't act all surprised that I mentioned this. Other people realize this too, they just don't say it right to your face.)
2. Don't express jealousy. Instead, refine it into admiration.
I see this in bloggers a bit too much, and it's weird. What's jealousy in blogging, exactly? Well, it seem like jealousy when you write, and you have a beef with somebody. Maybe it'll be passive-aggressive, or good old fashion: aggressive-agreesive. Nevertheless, it reads as petty, even icky. Look for the positive if you're speaking of another writer or personality. Unless, of course, you're being quite clever or satirical, then have at it.  Ooo, except if you're no good at that, then never mind…just be nice, if possible.  
3. Don't Whine.
4. Don't have long posts much. Keep a healthy amount to under 400-500 words.
5. Don't post something just because you think "it's time". The content quality dives when you do this. It's a silent killer that last year alone murdered 850 thousand blogs. Okay I might have made that last part up.
Tips to help with #5: a. When you get a stream of ideas, write them all down. Anticipate that you will have dry periods of creativity. It can be feast or famine, so plan ahead. b. Split your ideas into a series of shorter posts. c. Invite guest post writers to contribute. d. Make lists, like "My funniest posts," or "Most controversial posts" or "Most popular posts" (An admitted Jon Acuff "favorite"…or whatever… is the "list post".) Obviously you have to be doing this for a while to have an arsenal to pick from.
5. Don't grovel for endorsements.
(Included here are asking for retweets of your posts links, begging for plugs,  being gimmicky, or the cardinal sin in social media: sending a DM for a RT. More on that from Chris Brogan here.)
Oh, hey! If you don't know what I'm talking about with this terminology, you might want to ramp up your social media IQ, and read up on these terms to help your blogging efforts. It's not that it's all "cool," it's simply necessary. Here's a spot, for a quick and dirty rundown of indispensable terms.
The fact is, if I ask you to RT (retweet) or to stick me on your blogroll; If I ask you to link up with an article, or to please put in a shout out, gosh…. it just oozes neediness. Un-Attractive. (Yes, I've done it…but I am so ashamed, now that I know better.) See, I have to earn this stuff. This comes the hard way, and through its own merits. I need to do the best I can. I will be rewarded in due time (same goes for you).
Whether you blog, or just read blogs—What makes a good blog?
Oh, one more thing….
I DO whisper names. If you leave your blog link, before the end of October, I'll check it out thoroughly. Then you could get a personal plug. I plan to feature 5 favorite blogs in an upcoming post, maybe one will be yours. Give me until November to check them out, and report!