Jul 3, 2012 -
Authors, Christianity, Christians, Creativity, Creators & Communicators, culture, discernment, Free Stuff, ministry, Soul Care, Spiritual Formation, Spirituality, Work, worldviews
2 Comments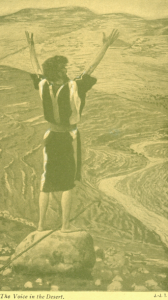 In my recent short book I discuss how creators and communicators have a pivotal position in society.
They are the Storytellers.
They help others seen the vision just out of reach, and remind us who we really are.
They are the modern incarnations (and I use that word to note the Divine aspect) of the prophets of old. The message-bearers. The truth tellers.
 Is this you?
I know it's me.
You can only live into this calling on your life, or run.
The running away is tiring and it doesn't change a thing.
Read the rest of the Story and what's involved for the modern-day prophet for free during July: Here (For that particular section jump to page 127).
Need a little shot in the arm from the ancients?
Here's a passage from a prophet that works well as a call for the prophets…it's a herald to the communicators to live out our calling.
Let it be your manifesto today.
Oh! If you can read it out loud. Do it. It'll add some punch and encourage you!
Isaiah 43
6b Bring my sons from afar
and my daughters from the ends of the earth—
7 
everyone who is called by my name,
whom I created for my glory,
whom I formed and made."
8 
Lead out those who have eyes but are blind,
who have ears but are deaf.
9 
All the nations gather together
and the peoples assemble.
Which of their gods foretold this
and proclaimed to us the former things?
Let them bring in their witnesses to prove they were right,
so that others may hear and say, "It is true."
10 
"You are my witnesses," declares the Lord,
"and my servant whom I have chosen,
so that you may know and believe me
and understand that I am he.
Before me no god was formed,
nor will there be one after me.
11 
I, even I, am the Lord,
and apart from me there is no savior.
What was your favorite part?