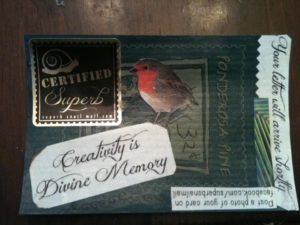 (This birdie card is an original creation: A Superb Snail Mail postcard I'm sending out to a savvy lover of mail.)
So now that there's enough interest in Superb Snail Mail to keep me busy, I thought I'd post about the power of birdies. 
Like a whisper Twitter started chirping and soon journalists learned to scour the twitter feeds for breaking news. One of the first big breaks was the tweeted death of the King of Pop, Michael Jackson.
Twitter bucked the wisdom of online gurus and what was already working on the interwebs. Twitter simplicity was so elemental that it felt restrictive. Quick tweets (remember "a little birdie told me") were held to just 140 characters, even for direct messages. It had its critics and could be exasperating, but it worked.
It turns out news spreads well if the message is simple and widely dispersed.
The same thing will work for you. Think of your message and your creative endeavors like a diaspora of ideas. It doesn't take a loud voice to get the word it takes lots of little birdies…chirping.
Now, think about a message you'd like to disperse. How many little birdies will it take? Start here, and let us know what you're working on.
Should we spread this message through Twitter? That would be cool. Click the twitter button.

Word of mouth is fine too. I don't mind being old fashioned.