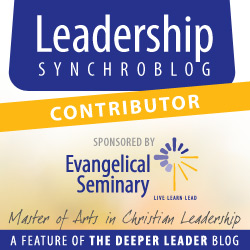 What happens when a Leader imposes a

term limit

on him or herself?
A few things and they're all good.
Again today, I'm a Contributor at the Deeper Leader SyncrhoBlog that runs September 10-14th.
You are invited to add your voice to the greater dialogue too. Go here to get details, get your spiffy Badge, and get started! I'll be sure to check for your link and read your contribution, and others will too.
George Washington had a brilliant idea about his job as a leader: impose term limits
Although George Washington had the character and credibility to be President as long as he desired, he saw the dangers inherent in keeping the same position of leadership for too long.
It's rare that a leader will have the wisdom to limit his or her position, but it creates some things vital to the long-term success of the organization.
A corruption of power is the most obvious reason leadership needs limits, but some other vital reasons apply.
Freshness A organization is essentially locked into the era in which it was created. Organizations naturally lose momentum. Most Presidents accomplish far less in their second term, and shakeups at companies are sometimes the only thing that truly incite needed positive growth. Apple is a prime example. When Steve Jobs left Apple he gained perspective. It floundered without him, but when he return success was assured. Most leaders grow complacent or uninspired as time goes by, even without knowing it. Having a break is good.
THIS IS CRITICAL to KNOW:
The ability to evolve and adjust to changing times and circumstances decreases the longer that organization exists. The tendency to stay with what has worked works against innovation and growth. Two things that are critical to organizational health, development, and future success.
Authentic Succession
A planned shift in leadership energizes a group and creates opportunities for new vision. Studies, like this one, show that most organizations don't have any legitimate succession plans, even at places where CEOs only last for 3-5 years.
Churches do the same sort of thing, but far worse. They don't see that new leaders take over and move into position until a big problem or gap exists. Crisis mode determines succession in most cases. It's regrettable.
Commitment
If you knew that your leadership post, say in a church or in a community organization, would only last 2 years, would it make it easier to accept the position? Would you put in more devotion and energy knowing that you were installed for a set time? I know I would! Sometimes positions of leadership are simply filled by the closest warm body who's willing to do it, not by the most talented person for the job.
Organizations often find it difficult to get dedicated leaders, but sometimes this is because commitments necessary for the job are vague or appear too long-term to be desirable. The most talented person passes on the offer to lead. But what if the norm was term limits? What if you could tell an upcoming leader, "You're perfect for this job, and we need a full commitment for a year, and then we'll let someone else have a turn."?
Accountability Nothing improves performance more than when a person has boundaries and healthy oversight. It's said that the Broadway Show Spiderman, which spent over $80 million and nine years in production, was a total flop because creative limits and other typical boundaries weren't never in place. It failed to open six times. When it didn't it was plagued with problems.
With free-reign productivity falters and needed decision aren't made.
Boundaries on time, resources, and other parameters actually help, not hurt, projects and organizations. Creativity and resources focused on solving specific problems that limitations offer. Limitations create tangible possibilities. The result is innovation and progress. A limit on the parameters and length of  power is very important too.
So, ask yourself….Where could you limit your power?