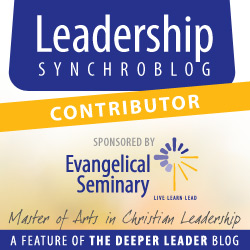 Are you considered an Exciting Leader or a Consistent one?
It's hard to balance both.
This is the last post for this week's topic at the Deeper Leader SyncrhoBlog running September 10-14th. A new topic will be offered up for contributions and discussion later in the month.
Remember, you are invited to add your voice to the greater dialogue too. Go here to get details, a spiffy Badge, and get started. I'll be sure to check for your link and read your contribution, and others will too.
Once upon a time…
I had a boss. She was a pioneer; she was inspiring.
Back when email accounts were rare, and big companies had to be heartily convinced that a budget for a website wasn't foolish, she hired me after merely looking at my portfolio and resumé in an email document.
We never met.
There was no on-site interview.
She just called and told me she wanted me after an email exchange. Boom. I was hired.
This was unheard of.
She mentioned this strange and new-fangled hiring fact in a speech to show how fast things were changing through innovations in technology. She was ahead of her time.
I thought working for her would be exciting. We were breaking into new technological territory each day, and she saw a bright future for us. But, she turned out to be capricious and inconsistent. No one knew what she would say or do next. It was hard to follow her or to trust her because she was so unpredictable. Turnover was high and people were often fired as soon as things went wrong.
This is

not

uncommon in Leadership.
It's tricky to be a Leader who's exciting and inspiring and yet one who uses consistent leadership methods that help people follow well.
Leaders, it's important to be predictable, especially in our character and responses.
If people can't tell how you'll react, or if immaturity has you all over the map, your leadership will erode. You'll lose support. Failure is imminent.
In both of New Gingrich's recent bids for the White House his team complained that while he had inspiring and innovative ideas, he was hard to follow. He'd bounce from one objective to another and go with his gut without communicating what he was thinking or going to do. At one point a mass exodus happened in all the top positions of his campaign. Poor leadership.
On the other hand, someone like long-time politician Bob Dole was so consistent that he was utterly uninspiring to those he hoped to lead. He failed to generate enough excitement for his ideas. No momentum. Failure.
Inspiring vision beyond current circumstances is vital.
The balance is a tough skill set to master. It comes through trail and error and personal growth.
Check yourself.
Are you both inspiring and consistent?
How could you even this out?
Read the 4 other entries for this Leadership Week series, and please pass along a link to this page so others can tap into the information.
Thanks for coming today.