Sep 21, 2012 -
Art, Authors, blogging series, Books, Christianity, Christians, church, Community, Creativity, Creators & Communicators, culture, hope, Integrating Spirituality, ministry, Soul Care, Spiritual Formation, Spiritual growth, stress, Work, worldviews
No Comments
It's hard to absorb everything that I've seen and experienced here at the STORY conference  in Chicago. It's a festival and experience punctuated with poignant presentations. I plan to have a day of silence just to process and pray.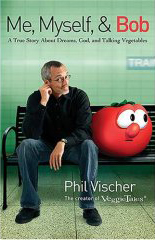 Phil Vischer the founder of Big Idea and the voice of "Bob the Tomato" was the final presenter. His story was one of being miserable when he thought he had gotten what he wanted. He wanted to be the next Walt Disney, but he got stress. With success came a lawsuit that killed his Big Idea.
It turns out God wants us to change more than he cares about all the things we can do for him. All our talents and ideas even when they are noble and good aren't as important as becoming who God wants us to be which is radically different than we are now.
The journey is never what we expect, and I wonder if living in the moment is closer to what we should do. A trust that is child-like in presentation. Expectant but not begrudging.
I think I should try to ee ready to say "yes" to God in whatever way big or small that is occurring at the time. Going with the flow…like a Jellyfish. (Phil said that his new company name "Jellyfish Labs" reflects this principle, because jellyfish go squishy-squishy up and squishy-squishy down, but the they are helpless to move another way. They must go where the current takes them.)
What a learning process life is. We think it's more than squishy-squishy up and squishy-squishy down. We get to re-learn that a million times.
It takes being ruined or broken or ill to get us to that point sometimes. I think of my beloved Old Testament Professor who claimed true the same thing that Phil did. Talented in languages, he had big plans of making the Bible accessible, especially old testament law, which is always misunderstood and mistranslated. What great and ambitious goal. But he got very ill, and has battled illness and almost died many times in 3 decades since that time.
Is God keeping him at a certain spot? Just squishy-squishy up and squishy-squishy down, and hanging on to God for each moment and each day.
How will your Story end?
I can tell you this: It's going to be a surprise. And that's the point.