[scroll down for visual guide]
I used to think books with "daily affirmations" were goofy new-age baloney.
Why would reciting some sappy self-help mantra change anything?
I still don't own a book of daily affirmations but I've learned a lot about transformation.
Plus, the recent empirical scientific data shows what many of us who've studied spiritual formation already knew from a long record of wisdom writings and human history:
"As a man thinks so he is."
3D brain scans verify that our thoughts, habits, and patterns (physically) change our brains, down to the cellular level and even into our DNA!
Prayer works like focus. Meditation works like concentration. And yes, affirmations can truly transform attitudes.
All 6 can, and do, change us for the better. It comes down to effort.
With practice, bad habits get harder to break (not so great), but new thoughts and actions build new cortical pathways (hope for betterment!).
I have some firm beliefs that I'm bent on making a potent reality:
1. My perspective can determine my actions.
2. My attitude can improve my life.
3. Reminding myself of the truth about abundance can transform me.
4. Connecting to a positive version of reality can revitalize me.
5. Hope is my choice.
I decided to create a handy guide to make each day better.
If you ever struggle with being positive and hopeful, I hope this makes it easier.
It's really helped me to see the path visually.
I'm hoping to improve how I determine and live out my outlook and actions each day. How about we do it together?
Sure, we'll fail sometimes, but maybe some guidance will steer us right again, soon.
Skeptical? Give it a chance.
Seriously. Try it for a few days:
1. Use this visual guide to help you.
2. Remind yourself throughout the day about your choice of a scarcity or an abundance mindset.
3. At the end of each day, review and see if you lost track of your perspective–then recommit to keep at it.
3. Note your mood and attitude throughout the day to gauge your progress.
4. Share your progress and this guide with others, if you've been helped.
I made it for you to ebed at your website, or share on Facebook or pinterest.
Want to pass it along? I'd love that.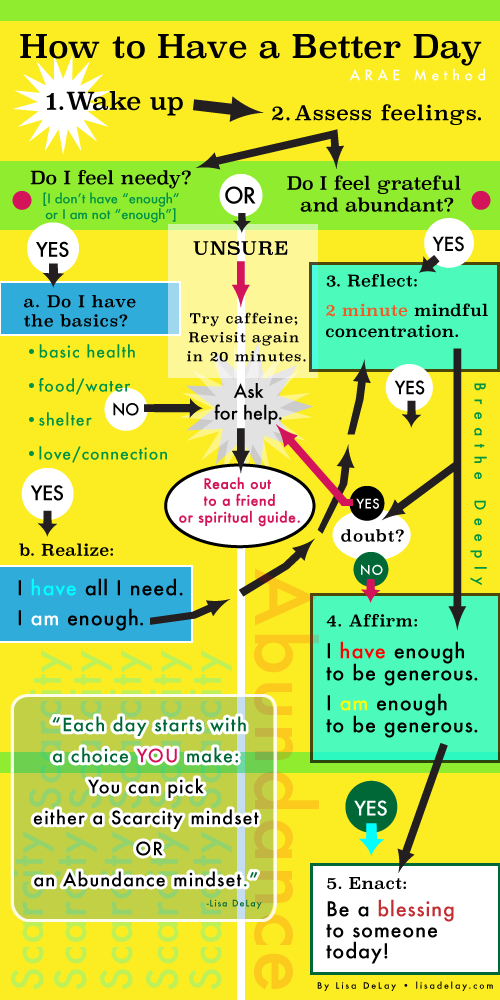 Want in on the upcoming goodies and posts? Whoot! Sign up in the right sidebar!
Interested in brain science?
I recommend this: