Welcome to Spark My Muse!
and to SOUL SCHOOL.
UPDATED: SHOW DETAILS as of 2017-
Soul School Lessons OR Guest conversations are released each Wednesday
(that is on aka "Hump Day" or Midweek).
• On FRIDAYS, I feature occasional  BONUS episodes. 
---
Please enjoy the program.


If you'd like to give a gift to help the show, you can use the PayPal button below.Thank you.


---
(Just $1 per gets you these Show Notes, AND the rest of the Show Notes for the whole calendar month-FREE. ! AND a coupon for $3 off the clothing below.)




---
AUDIO PLAYER:


Podcast: Play in new window | Download (Duration: 16:25 — 22.6MB) | Embed
Subscribe to Spark My Muse Apple Podcasts | Android | Email | Google Play | Stitcher | TuneIn | RSS | Subscribe to Spark My Muse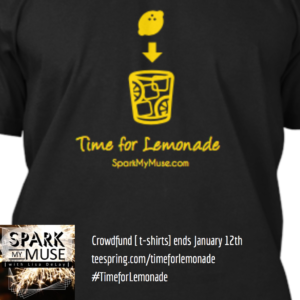 ---
List of my books available for FREE, January 4-8, 2017
– Life As Prayer: Revived Spiritual Inspired By Ancient Piety
– Forked: A Discernment Pocket Guide for Choosing Wisely Between Two Good Things
– I Love You, in Theory: The Misadventure of Christian Grace
– Soul Care for Creators and Communicators
– Dog in the Gap- Bonus Edition
-Sparky's Go-to-Guide (LUCID DREAMING)
-Sparky's Go-to-Guide (Content vs. Traditional Marketing)
---
If you like the show, please share it with one other person TODAY, OR write a review on iTunes. Here's a short how-to video.
---
Listen to recent episodes:
---
Pick an option that works best for you!

Subscribe to
Spark My Muse
Or subscribe with your favorite app by using the address below