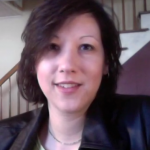 HI, I'm Lisa.
(Lisa DeLay)
I'm a writer, strategist, and creator with an insatiable curiosity about life and learning.
People come to me to solve problems, to get great ideas, and to get "unstuck".
I love helping people solve problems. Daily, I help others discover amazing things about themselves and help people (or groups) identify strengths and capacities for new projects–or for personal, spiritual, or leadership growth and development.
I'm a catalyst. I'm a developer. I'm a champion of others.
Myers-Briggs temperament (preference) score is
ENTP (2% of women) But I have a high F and sometimes score ENFP.

The (Gallup) Strength Finder 2.0 assessment lists these as my strengths.
1. Futuristic
2. Ideation
3. Strategic
4. Activator
5. Connectedness
These are my "superpowers" when I'm on a team.
I provide opportunities, education, and resources for others to make dynamic things happen. (That's why sometimes people call me SPARKY. Or if I make a great campfire, which I also love to do.)
On this blog:
I explore ideas!
I start things.
I move the conversation along.
And I try to connect (which is not nearly as fun to me as connecting in real life!)
Topics I often cover:
2-3 times per week
• Personal Discovery
• Spiritual growth
• Leadership Development
Communications
I'm currently the Director of Communications at a Graduate school, handling Social Media marketing, writing, strategizing and ideating projects, promotions, and publicity on a shoestring budget. Plus, I curate and write for a blog on Leadership called the Deeper Leader blog. [This means I've had the honor of meeting and working with so many great writers and thinkers. I consider this a huge honor and Perk!
I'm always on the prowl for new articles or permission to repost previously published articles. So, get in touch if you like to write on leading others and gain a greater audience.]
M.A. Stuff
I'm getting Masters degree #2 in Leadership Studies. More on that distance learning + residency program is housed here. I also have a Masters in Religion / Spiritual Formation. (I consider the two degree as incredibly complimentary. To me, discipleship IS Leadership training, in the Way of Jesus, that Savior peasant of Galilee in the 1st century CE.)
When it's all said and done that'll come to about 100 credit hours of Masters work. (I get exhausted just typing that.)
Humor
Generally, I have a damp sense of humor (so not really wet, but not all that dry either.) You'll see it come up at the blog on a regular basis, if you keep your eyes open, and your funny bone within arms' length…so to speak.
Family
I am mother to Nathan, my son, who has autism and learning disabilities and a passion for model railroading (Passion with capital P); and Gabrielle (a.k.a. Ellie) my daughter who's a creative and social creature with the stats easily worthy of MENSA membership (I almost wish I were kidding.); and a chocolate lab named Luna who snores like a buzz saw. I'm married to Tim, my college sweetheart: a kind husband, great dad, and cycling enthusiast; and we live in a small town where Coal was King, in the shadow of the Appalachian mountain range of Central-Eastern Pennsylvania. It should also be noted that I'm a transplant and not an official "Skook" (individual born & bread in Schuylkill County)….I grew up in the Pittsburgh area.)
Favorite new pastime?
Providing getaways, custom-crafted, Spiritual Retreat and Prayer Experiences that transform, develop, and renew thirsty pilgrims. For more on that click here.
…So this has gotten really long!
Poke around and read. Or, if you'd like–drop me a line and ask a question, leave a comment after an article, or send a voicemail (using the voicemail tab over there).
Below are a few other places you can find me. And please do…find me.
(and leave a link so I can find YOU!)
The go-to ABOUT page (with my main links and short summaries of what's going on lately)
• My FACEBOOK page is the go-to place where I broadcast what's on here, what's new for me and people I enjoy, and I also post resources for other thinkers and writers find intriguing.
Here are my latest KINDLE books. (more are coming)
Life As Prayer: Revived Spirituality Inspired by Ancient Piety (Brother Lawrence makes a great spiritual mentor. This book is great if you want to increase a felt awareness of God's presence throughout you whole day, and was part of a Devotional Classic Project in Seminary.)
I Love You, (in Theory): The Misadventure of Christian Grace (Originally written 6 years ago, and finally released digitally because I didn't have the Platform to please the accountants at a publishing house that will remain nameless.)
Soul Care for Creators and Communicators (Inspiration, Soul Care, and great advice for those of us who create and communication. This helps you fill up your tank to keep on with your calling. shot. in. the. arm.)
Sparky's Go-to Guide for Dream Control
Total random from the other books. I have lucid dreams rather often and have learned to hone the skill. This is the first digital book of a larger (ongoing) series of Go-to Guides on everything from health and creativity, to productivity and life hacking (unless I decide that I don't care about this series thing idea anymore). I do summer projects that are more creative so that I can fill human again, and this was one such flight of fancy.
3 FAST FACTS:
1. I add posts about 2-3 times per week. I recommend getting an email or RSS subscription (above) so you don't miss out. It's painful to come on a post about a 1 day giveaway, a day too late, ya know?
2. There's a soft spot in my heart for Creators and Communicators. Bloggers were first on my list. Click here #4Bloggers for the scoop, some great resources, and contributions from truly AMAZING authors you've probably heard of on the interwebs.
3. I'm always up to something new. I usually have a new project every season. Keep an eye on me. I'm up to something right now.
Some writing of mine, elsewhere:
• Featured Guest Writer on Todd Littleton's blog on the subject of Art, Advent, and my "idea virus" called the Artists Advent Project: 
• Featured guest writer at Moody Bible Radio show Midday Connection's blog: "Does Everything Really Happen for a Reason?"
• Featured Writer in the Belonging Series at In-a-Mirror-Dimly contributing a piece called, "Seasons of Belonging". 
• Promoter and advocate for "Little Free Library" movement, which promotes generosity and literacy on a small but powerful grassroots level. (I wrote the first main Wikipedia article as well as an essay for the STORY Conference in Chicago on the phenomenon, and at Jeremy Statton's blog.)
• Here's my article at the BURNSIDE WRITER'S COLLECTIVE on "Blue Notes" (Jazz, God, and the human experience.)
• Here's a Guest Post I did for Jon Acuff's Stuff Christians Like blog entitled: "The Popcorn Collision". (On prayer and Christianity, humor/satire)
• Here's a Guest Post I did for Ed Cyzewski's blog on why I REALLY went to Seminary.
• At Thomas Turner's place I did a piece called "A Prayer for Desperate Situations"
2 books to which I've contributed. Blah, blah, blah.
Too much?
—-> ESCAPE TO MAIN PAGE.
Still reading? Nice. We should be friends!
Here are some
Slow Facts:
EDUCATIONAL FACTOIDS:
• My undergraduate is a B.F.A. in Communication Design, and I'm a fan of visual arts and performing arts. I continue to do graphic design and package design work on a part-time basis. One favorite client is Leiby's Ice Cream (for obvious reasons of deliciousness). I also do communications consulting for application in blogs, for social media outlets/applications, and I'm currently the Director of Communications at Evangelical Seminary (a Seminary with other graduate studies programs), in Myerstown PA.
• My graduate school alma mater is the very same Evangelical Seminary in Myerstown, Pennsylvania. [There, I graduated with highest honors with a Master of Arts in Religion (with a Spiritual Formation concentration, which included 30-something credits in Theology) 57 bone-crushing credits in total. Whaaa! Now, I'm on to a Master of Arts in Christian Leadership…causing some to suspect that I thrive on stress. But "thrive" is such a subjective word, right?
Live-in-person
I've been invited to contribute in-person in various ways (including churches, camps, community groups, luncheons, graduate classes, retreat centers, universities, small groups, workshops, etc.). I limit this aspect of my life to twice per month. The topics range from things covered here to Leadership Development, Spiritual Practices, and Spiritual Formative topics, to Theology, Contemplative Christian Living, and much more. 
Want A Direct Connection? (3 options)
• Reach me using the Contact tab button thing over on the bottom.

• Leave your replies or contributions in the comments sections after posts.
• Use the Voice button and tell me how you are.
I'm glad you came by today. Thank you.
-Lisa
(a.k.a. "Sparky")
Pointless Fun Fact Tid Bits you needn't bother reading: 
1. I was born on a Caribbean island, and I have an awesome but often confusing (maiden) last name. I clear that up here.
2. I can say the 66 books of the Bible in under 20 seconds. So far, this has not helped me one bit in life. (childhood church camp and AWANA junkie)
nom de plumes / pen names:
• Leo De Pluma
• Tonto De Pluma
• Sparky Pronto
3. Google "prowess":
I have the top google spot for "Hobo Moleskin" (my short "comedic" how-to video for making a non-hipster moleskin journal) It's just horrible; and the top spot for "Lady Gaga Meat Dress Jokes" thus beating out Jimmy Kimmel and George Lopez, who also enjoy poking fun at meat couture but just aren't as good at it. Ridiculous!
Obligatory Disclaimer:
At this blog, I review books, materials, services, and other stuff sometimes, and I get some those items for free or at a discount. I am disclosing this in accordance with the Federal Trade Commission's 16 CFR,Part 255.