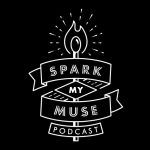 Heard in
181

 countries and all 50 of the United States by all the best sorts of people, including you!
---
Most recent episodes:
---
PLUS, there's lots more to hear!

Get Show Notes and EXTRA goodies each

 week by supporting the show monthly.  MORE INFO 

HERE
---
• Share what you've found on Twitter, right now!
 Send out a Tweet-just like magic. Just click below:
---
~SHOW DETAILS~
Each Wednesday: hear an interesting conversation with a guest or a shorter episode for your interior world (called "SOUL SCHOOL").
---
Pick an option below:
Subscribe to
Spark My Muse
Or subscribe with your favorite app by using the address below
---
DO YOU have a question or an idea for a show topic or guest?
Use this contact page and let me know.
---
Have you enjoyed what you've heard or read?
Feeling generous and kind?
Want to chip in and to help keep things running?

Any amount will really help. Click here to give a gift. 
(If you indicate so on the donation form, I will give you a personal "thank you" on an upcoming podcast.)
---
MY BOOKS
Check out the reading material that I've authored below or one of my other books.
Just click here for those!