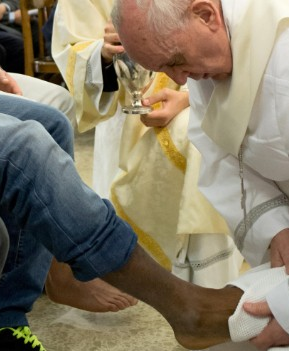 As new Pope Francis makes bold statements through actions (washing the feet of inmates, taking residence in the papal guest house, etc) the word I hear tossed about concerning his leadership is MEEK.
Too often lumped as a quality of weakness, Meek Leadership has secret powers!
So what is the word "meek" about and how can it be so influential?
My leadership professor, Tim Valentino, wrote some comments I'd like to share with you.
(You can read more of Tim at his blog)
Leadership and Meekness?
The biblical word for this is "meek" (praus). A related word is "gentle" (prautes).
The semantic range of this word cluster includes the following: humble, gentle, considerate, unassuming, courteous, and restrained. In some contexts it means, "the absence of pretension." By way of contrast, it's the opposite of harsh, arrogant, or braggadocios.
As used outside the New Testament, this word has in it the idea of "lying low." It was a word originally used, for example, to describe a low-lying river—one that cut through a valley. A river, of course, is a powerful thing, but a low-lying river is one that doesn't impose its power on you. You have to go out of your way to go see it because it's unobtrusive.
It's important to keep in mind, I think, that "meek" does not mean "weak." Unfortunately, these two words rhyme in English, but they are not synonymous. Nor does this word mean timid, shy, bashful, cowardly, indecisive, or unwilling to serve. Perhaps the best definition comes from William Barclay, who defined meekness as "power under control."
Again, as used outside the Bible in the first century, this word referred to:
• Tame animals (cf. an elephant with its foot on a circus lady)
• Soothing medicine (cf. buffered aspirin or anti-anxiety drugs)
• A gentle breeze (cf. not a tornado, but wind that is refreshing to the body)
All of these items can have tremendous, destructive power, but "meekness" brings them under control to serve a good purpose. Significantly, Jesus, who has all authority in heaven and earth, quintessentially displays meekness. He said in Matthew 11:29:
"Come to me, all you who are weary and burdened, and I will give you rest. Take my yoke upon you and learn from me, for I am gentle and humble in heart, and you will find rest for your souls. For my yoke is easy and my burden is light."
Jesus, of course, was a great leader. He was also meek. Apparently God thinks the two should go together.
Questions to ponder:
§ Do you know anyone who is powerful yet meek?
§ Do you know anyone who is authoritative yet gentle?
§ Could your leadership be described as "meek" in the sense used here?
§ How would our work environments improve if our leaders were meek?