Welcome to Spark My Muse!
Welcome to SOUL SCHOOL.
These brief "lessons" are released each Wednesday
(on "Hump Day" aka Midweek).
• Come back FRIDAYS for intriguing guest conversations!
---
HOW FUNDING WORKS:
Spark My Muse is heard in 159 countries and costs hundreds of dollars out-of-pocket each month to create, produce, and host online. Without help, it will go bye bye.

Thank you for ANY amount, even $5 or $10, you can give today.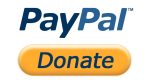 ---
Scroll down for the AUDIO PLAYER to hear the epsiode.
INTRO:
Today, I share a personal story as springboard for something about compassion offered in context.
Many of you might not know that my husband and I have a special needs son named Nathan. (We also have a normally-developing daughter named Gabrielle, who we usually call "Ellie". See photos of both of them below.) It's been very arduous over the years with Nathan's myriad of challenges and a strain on the whole family in many ways. To those friends, teachers, family, and others (too many to name) who have been helpful and supportive over the years, we say "thank you".
What I am sharing today relates mainly to Nathan finding rich connection, friendship, or being truly accepted among his self-identified Christian/church going peers. Acceptance is a challenge for many typically developing children and teens. Children and teens by nature are immature, so I don't (and didn't) expect things to go perfectly!
His story is far from unique and neither is my pain as his parent watching it unfold. In a Christian setting, we'd like to think that rejection doesn't happen too much because children might be influenced by church teachings and leadership. Or, Children and teens might be influenced by their Jesus-loving parents to act in ways that loving receive others with equality, but that was not our son's experience.
When "being a mascot" is the best your child can hope for in terms of acceptance (that is to say that being ostracized is normal and being treated as a " 'Hey there little buddy!' mascot" is a more rare but rather humiliating experience), your context as a family, how you help your child cope, and who shows up as your salvation, can take a surprising turn.
This personal story is the

springboard

for a deeper reflection today: about how we find our way in the world, make life better for ourselves and others, and maybe find some healing in the process.
What our family's experiences showed me was that we can provide for others best out of the context from which we come, eventually. Examining those needs, hurts, and context can (possibly) yield a harvest of "good fruit", eventual healing, and service to others. And maybe (with some new awareness), as we become more mature we can be increasingly mindful to ways we distance ourselves from people we fear. We also distance ourselves from people who unconsciously reflect parts our own weakness or insecurities back to us, and sometimes we distance ourselves from others we deem un-preferred to our sensibilities (or our cultures'  sensibilities) and are unlike us. If we can begin to see this, it's a start. 
• Thanks for listening today! Blessing and peace.
See the show notes below for my two previous fantastic conversations on the theology of disability and hospitality from Dr. Thomas Reynolds. He offers some truly inspiring and enlightening things in these areas that are likely to be completely new ground for you and your community.
AUDIO PLAYER:
---
(Share a snippet of audio by clicking the Clammr app below. It's a rock star upgrade!)

Podcast: Play in new window | Download (Duration: 15:03 — 20.7MB) | Embed
Subscribe to Spark My Muse Apple Podcasts | Android | Email | Google Play | Stitcher | TuneIn | RSS | Subscribe to Spark My Muse
---
SHOW NOTES:
This is Nathan.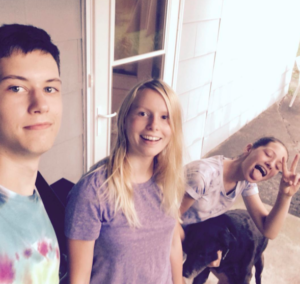 Pictured in photo: Nathan, his friend Cori, Nathan's sister Ellie, and Luna–our dog.
A little bit about Nathan: Nathan loves to make videos on his youtube channel about trains, how-to videos, and animation videos. He loves working at his part-time job (large scale yard work), spending time with friends, making things from soda cans, drawing, playing with Luna, and coming up with fanciful business ideas. He also enjoys posting on his Instagram account. You can follow him on those outlets and encourage him, if you'd like. He loves connecting with new friends and fans. (And if you send him train video footage or interesting video script ideas he might try to create new videos with them.)
---
Nathan's video channel trailer:
More on the the study and theology of disability and hospitality.
Tom Reynolds – Part I

Tom Reynolds – Part II

---
Thank you so very much for listening today.
Hear other recent episodes:

---
Pick an option below!