29 DAYS!
That's all the time that's left until a retreat I'm really excited to be a part of!
The Renew and Refine Retreat for Writers is a very special weekend that mixes fellowship, community, expert writing insights, and an enriching spiritual experience. Ed Cyzewski and Kristin Tennant have put their heads together to create something important and lovely that will give you perspective and space to find refreshment and inspiration unlike any typical writing conference can. Let's face it, you need this!
Whether you're a seasoned writer who'd like some sacred space to learn, grow, and rejuvenate, or you are a part-time or aspiring writer who'd like to pursue a deeper calling, meet other writers, and hear from seasoned pros, this retreat will be a boon!
I'm personally extra excited that the beauty of nature, time for laughter, relationship building, super yummy, specially-cooked family style meals, and time for personal reflection or solitude is built-in from the onset. Some have even called this the retreat keeps the introvert in mind! (But I assure you extroverts, like me, will love it too.)
Breathe a sigh of relief! Instead, of just getting bombarded with great info or squeezing in networking between workshop breaks, this time (May 24-26) will have space built-in for you to connect, learn, and enjoy relaxation and times of quiet too. Heaven? Maybe.
We'll be at the Trinity Lodge. An interior picture is shown here…Looks cozy, huh?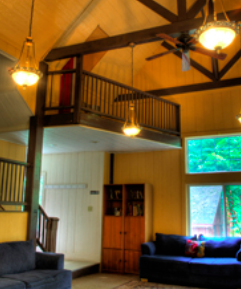 If you'd like to save $25, see if you can spot the secret promo code word in this blog. I left some clues.
(Psst. If you figure it out, you can share it.) See you soon!
Sign up or learn more about the weekend here!
(Oh, one more thing! Did you already sign up to go? Or do want some extra awesome?
If you spot promo code and you are the first share it on Twitter with the hashtag #RRforwriters I'll have a special care package for you when I see you there, May 24th.)