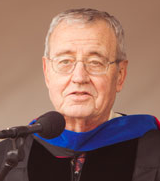 Christianity just lost a wonderful teacher. Today, Dallas Willard has died of cancer at the age of 77.
As a person who has spent countless hours learning about spiritual formation and endeavoring to be formed well, I am saddened that we've lost such an insightful man. A number of his books were part of my required texts and his keen wisdom helped to shape me.
In homage to him today, I will refer you to this article that is very helpful for understanding the difference between discipleship and spiritual formation and why the formation of our characters into Christ-likeness gets sidelined in churches and Christian institutions. It's quite good.
Remember to say a prayer today for all those who grieve his loss.
article excerpt:
Interview:
What do you mean when you use the phrase spiritual formation?
Willard: In our country, on the theological right, discipleship came to mean training people to win souls. And on the left, it came to mean social action—protesting, serving soup lines, doing social deeds. Both of them left out character formation.
Isn't character formation very much a part of many Christian schools and institutions?
Willard: What sometimes goes on in all sorts of Christian institutions is not formation of people in the character of Christ; it's teaching of outward conformity. You don't get in trouble for not having the character of Christ, but you do if you don't obey the laws.
Read the rest here.
This is the video collection of the last conference Dallas Willard did in February on Knowing Christ, and the Dallas Willard Institute at Westmont College. (It's excellent) 
To visit the Dallas Willard Center at Westmont click here.
Here are just a few of my favorites: