Oct 8, 2011 -
autism, Christianity, Christians, Community, Food, Integrating Spirituality, Jesus, ministry, Theology, theology of disability, worldviews
1 Comment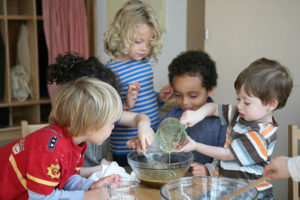 Doing Church
Did you know that Church and Relationship are synonyms?
This Thursday was the second week in a row that we had a friend come to play with Nathan. Michael is a year ahead of Nathan at his school. Michael, too, has autism and its noticeable in different and similar ways (more on that some other time). He's an only child, and making friends is tough. It's not natural for him, but the opportunities are few as well. Together, we're changing that.
Having him and his mom here felt like 'doing church' in the most wonderful of ways. Their visit warmed my heart. "Church," in this case, means that it's the first time in much too long where I could tell that I, no we, were living life together. We were enjoying a deeper connection and community in a natural way. In ways we all hope for when we go to church. It feels like coming home with supper waiting for you. It consists of acceptance, warts, and joys, and all. The common was somehow sacred this Thursday.
My hope it that Michael always knows he's fully accepted and valued here. He is. I've made a kind of internal vow for our home to be a safe and loving place for him to be himself. He's picked up on that. If his mom's work schedule allows they'll be over again this Thursday. He says, "We have a meeting."
I'll try to put up some video soon, because the way these two boys interact is so hilarious and sweet, and I know you'll love it.
Make Your Home "church"
Here are some tips, if you'd like to make your home a welcoming environment for a child with autism, so a visit is something to look forward to and enjoy. (Share this information with your children.)
• Structure. Don't expect that a child visiting will just play. Or do well if there are toys and game around. For kids, with autism anyway, most must learn simple social skills and interactions and adapt through practice. It's really awkward at first for them. But, it gets figured out through process. You might want to create something, cook something, or play a short game, all together. Doing something with a beginning, middle, and end will add sense to the visit for them. A free play or open-ended style of interactions won't lend to a high quality visit.
• Time limit. When Michael visits, he likes to stay for 60-75 minutes. He tells us when he wants to go. This is great, but not all kids will know when enough is enough. This can be hard on everyone involved. Plan the get-together with a defined time frame–from the outset. I suggest 45 mites to start (this depends on the child. 30 minutes for a young child might be better). Later you can move to up to 90 minutes. But play for over 2 hours, or trying for an open ended meet up can be counter-productive. A defined time slot things end on a high note, and it's fairly easy to prepare for the visit.
• Provide goodies. Ahead of time, ask if there are food preferences or allergy issues, and then make sure to offer a snack and beverage. Food is powerful. Use it wisely.
• Ask Questions. Make an effort to interact personally a few times. Ask a "yes" or "no" question, or an "either/or" question, and indicate your interest and acceptance right away, and along the way. Don't expect anything, just do it. If it falls flat, try again in a little bit. Be Patient. Children are more like gardens than firecrackers. (So cultivate, rather than expect a dazzling display from a brief "matching".)
• Issues of Eye Contact and Touch We take these social things for granted and generally know what is acceptable with others, and when and where eye contact and touch it is acceptable. Many disabled children do not. They may kiss you all of a sudden, or never even glance at you. Don't expect them to make eye contact, and don't try to touch them unless it seems very obvious that they wouldn't mind. (Realize that for some kids, it feels painful to be touched. Yes, painful. Same goes for eye contact.) That being said, once I've built trust, I find kids really appreciate and respond well to a hand on the shoulder or back, or light pressure/touch on the arm, and they warm up to me very quickly. Since sometimes others are afraid to touch them (because they've seen big reactions), or because they don't have friends they interact with closely, they are sort of touch-starved. Acceptable and respectful touch will establish trust. It's surprising.
• Notice Stuff. Maybe mention that they look good in red, they are wearing cool shoes, or that they're getting big and strong. See them. Then, say something to let them know. This shows them that they matter to you. Make concrete comments (facts) to them, about them. It gives them a sense of personhood, or place…at the table, if you will.
• Talk to the parents. This might seem obvious, but I'm always surprised at how much the parents of disabled children feel relieved to interact and relax with conversation and company. Encourage this. They don't often get to "feel human" because of all the stress that goes along with caring for their child. (They're "going" or "on" all the time. It's exhausting.)
• Follow Up. Plan ahead for the next time, soon. Set up something that day, or within a week, to have another time together. If we don't do this, it falls off our radar. Use a pen and mark the calendar. Consistency is key.
Are you "doing church" with anyone? Why or why not?
Verse of Reflection: 
Matthew 25:44-45 "Then they will reply, 'Lord, when did we ever see you hungry or thirsty or a stranger or naked or sick or in prison, and not help you?'

"And he will answer, 'I tell you the truth, when you refused to help the least of these my brothers and sisters, you were refusing to help me.'
Questions, comments, suggestions?