May 11, 2012 -
#4Bloggers, Authors, blogging series, Books, Christianity, church, Community, Creativity, Creators & Communicators, free book, Free Stuff, Humor, leadership, ministry, Recommendations, Soul Care, Spiritual Formation, Spiritual growth, Spirituality, Story as Life, Theology, Walking with God, Work, worldviews
No Comments
OKAY!
This is my favorite ebook review so far…
Lisa – Great work! It isn't often that a writer can encourage the creative spirit, facilitate engagement with the Holy Spirit, and bitch-slap a mogul of the Christian writing industry all in one book!
-Dr. Doug Jackson
Well, my reader friends, that's quite a synopsis.
See if you can best that one!
Bitch-slap may be a bit profuse…I'd say noogie.
The great thing about my (LIMITED TIME read for FREE) ebook is that it's MUCH cheaper than a McLobster Meal and much better for you, especially in swimsuit season!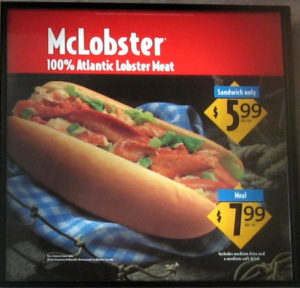 (It's just $2.99 NOW FREE HERE and I'm not sure if the McLobster is still available.) 
Want to read the first 20 pages before you click or sign up? Here you go!
(Click here to order.) 
But Remember, Subscribers get a discount. For that, go here:
What are others saying…
Creatives and givers and you, the one who needs to refill your [creative] mojo. Check out this sweet deal.    

-Jenn Luitwieler

Frustrated? Writer's Block? Creativity Stifled? Lisa has solutions.
-Thom Turner

This is incredible- a huge weight off my shoulders. So thanks, Lisa! Soul Care V1 is phenomenal, can't wait to see the rest :-)
-Ally Clendineng

Download Lisa's Soul Care for Creators today. Beautiful design and wise words:
-Ed Cyzewski

Thanks Lisa, too, for all you do to pull together good resources & encouraging stuff for people.
-Kathy Escobar

Bravo! So thrilled to have these resources for creatives and communicators from Lisa.
-Sarah Bessey
…NOW the question of the day…
Would you eat a McLobster sandwich?