Today, I'm featuring a returning guest, my friend, Ray Hollenbach: teacher, blogger, writer, former pastor, and now a facilitator of the Deeper Seminars. Ray trains leaders and any one interested in deepening their spiritual maturity and walk of faith in the Fruit of the Spirit in small group settings so lasting transformation is likely.
Included in the show notes are FREE downloads of Ray's exercises for you (scroll to the bottom to get those). We hope you enjoy them. Be sure to get his powerful book Deeper Grace.
---
If you appreciate what you hear today, if you enjoy it or benefit from it at all, please remember that just a few dollars from you helps a lot.


Podcast: Play in new window | Download (Duration: 39:12 — 53.8MB) | Embed
Subscribe to Spark My Muse Apple Podcasts | Android | Email | Google Play | Stitcher | TuneIn | RSS | Subscribe to Spark My Muse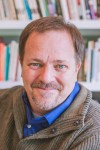 SHOW NOTES
MIN 1
Grace is a rich word we use a lot and simply go shallow with too much. How do Christians most often get the concept wrong?

MIN 4
Karma is the voice of reason and Grace is the voice of Love.
We want karma for others and grace for ourselves.
Justice and Grace
MIN 7
The oppressor is also oppressed.
Victim and victimizer are both held captive.
MIN 10
Roman 8:1
Offering others assurance of not having condemnation.
MIN 11
on GRACE for Difficult people
MIN 14
The person with the problem is the person who thinks there is a problem.
MIN 16:30
Stewardship (of grace) to not expose others and be brutal online or otherwise.
Love covers a multitude of sins.
MIN 21
The medium of being protected by a screen and not going to someone alone and face-to-face to win over a brother or sister.
MIN 22
Truth Bombs
What do we do with our outrage?
MIN25
"The anger of man does not accomplish the righteousness of God"
ASK: How big is your sphere really?
Renevere podcast "not having to have the last word" Dallas Willard
MIN 28
Relationally combining grace and truth
MIN 32 What "Grace teaches" means
Titus 2:11-12
3 movements of grace
salvation – forgiveness
how to say no to ungodliness
how to live upright sensible lives in this present age
Fruit of the Spirit (link to Ray's first guest podcast) and the biggest misunderstanding about it.
Not attained but instead or the byproduct (result) that show we are living a life with God (Divine Love).
John chapter 15
FREE=to=Download [PDF] Exercises from Ray.
Deeper Grace – Exercise One
Deeper Grace – Exercise Two
Deeper Grace – Exercise Three
---
[ powerpress_subscribe]