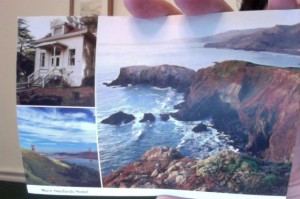 I just got some postcard love from across the country. Lara lives in this amazing hostel near the Golden Gate bridge. I haven't been to the West Coast yet, but now I know where I'd love to visit! I'll take that Hostel Environment any day!
Reaching out though my creative experiment Super Snail Mail has brought new friends into my world. It's been far more fun than I even imagined with surprises almost everyday. The power of shiny stickers, some creativity, and generosity has a Pay It Forward vibe, and I'm feeling the love.
If you want in, check out this page.
Or you may get your postcard featured here
if you send it to me:
Superb Snail Mail, PO BOX 10 Cressona, PA 17929.
 Create your own 4″x6″ card and send it my way.
Peace out.
-Sparky