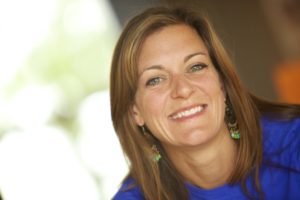 Podcast: Play in new window | Download (Duration: 41:09 — 56.5MB) | Embed
Subscribe to Spark My Muse Apple Podcasts | Android | Email | Google Play | Stitcher | TuneIn | RSS | Subscribe to Spark My Muse
BIO:
Nicole Unice is on staff at Hope Church in Richmond, Virginia, and the author of the breakout book: "She's Got Issues" which she wrote from her counseling and ministry experiences. The book produced and encouraged a refreshing and radical honesty that she's built on in her new book "Brave Enough".
Enjoy the Shownotes and links below and

please share

this with friends that you know CAN be "

Brave Enough

". Thanks for listening!
#GetBraveEnough
xo
~Lisa
P.S. Would you like to get a special, cozy Spark My Muse t-shirt?
Let me know HERE.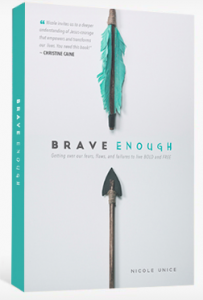 ---
Get  Brave Enough or find out more here:

Like to listen instead of reading? Get the AUDIO book here.
---
Shownotes – Episode 18 Nicole Unice is honest, enthusiastic, and "Brave Enough", so you can be too.
MIN 1:10
Nicole on staff at Hope Church
on the Richmond VA place and new midtown location.
1:30
Nicole's podcasting experience (the Becoming Podcast) doing hundreds of episodes with her pastor doing 15 minutes shows for commuters.
Lisa asks: Is "campus" a Christian code word for mega church?
2:40
How she grew with Hope Church for 18 years, as they started out small in an elementary school "cafetorium".
3;50
The "Youth Lodge" plans and the unique setting with wetlands and hills.
5:10
On the importance of Beauty, Setting, and Art in architecture and church building planning to evoke the imagination, inspire awe, and connect with the heart.
6:40
Collaborative workspace, and place where kids can do their homework and where people can enjoy the time away in a beautiful setting.
7:40
"artist come through the side door of the soul and preachers come through the front door."
8:50
The history of the church and Christian tradition is one where the Church is source of beauty, wonder and connected to art because God is a the Creator.
9:40
Her first book: She's Got Issues
6 main issues women (and men) face that can be a hinderance.
A rich relationship with God can come to a dead end as the ways we do life stop working.
12:00
How was it received? The #1 thing Nicole heard was, "You're so honest."
Why would honesty be such a revolution in Christianity?
12:40
She leaned into that for her next book "Brave Enough"
13:00
The story of how she got the title for the book:
To the question, "Do you think you can be brave?" Lucy Pevensie in the Chronicles of Narnia says, "I think I can be brave enough."
14:35
Few women will self-identify as brave. [and not many men will either]

"After we identify the hinderances, what does it look like to walk forward in freedom?"
15:00
Brave Enough is about Grace and its effects, inside and in action.
15:40
Nicole answering the question: Do men have the same problems in this area?
16:00
"Women hearing teaching from women is like hearing in your first language."
16:30
Ways Nicole leads and teaches men.
17:00
on how women have to translate teaching from men into their "language" and context.
18:00
On how, similarly, Brené Brown was challenged (by a man) to include men in her writing and teaching. (Lisa)
18:40
How men and women have similar vulnerabilities though they might deal with them differently.
19:40
"up speak" tones in language in women and men revealing different insecurities. (Lisa)
21:00
Nuggets from the Brave Enough book:
How the ingredients mixed into something she didn't expect. It follows a narrative "arch of the heart". How we can be full and free and confident in life.
22:30
on why (inner) freedom is illusive for men and women.
On "Fake Grace" in our head. (the excuses we make or how we blame others). Inviting God/Jesus into those places.
24:10
We all (default) and go back to rules and laws and how to short circuit that pattern.
It's about resetting the heart with a new spiritual reality.
25:00
Radical honesty about our ugly parts inside the heart.
25:30
Nicole's Parable: The violently stopping of the elevator door…(and how it relates to our soul).
26:10
Open ourselves to God's Presence and healing.
26:10
(Lisa) God uses what bothers us about other people is a mirror of what we don't like in ourselves.
27:20
How our baggage works to impede our progress.
Brave Enough includes major parts on forgiveness
28:00
God's breathing on us and giving us the mission of forgiveness, first.
(Click to read the reference John 20:19-23)
28:30
When we keep living out of a wounded place.
29:10
How we continue categorizing our experiences to support our false and faulty premises and hypothesis about ourselves.
29:30
Questioning what is really true about ourselves (and the mental "tapes" we play).
33:20
God gives us opportunities to practices forgiveness every single day, often in small ways in the relationships and event of regular life.
33:40
If we can't be gracious to ourselves we can't be gracious with others.
34:20
The economy of our heart: if we forgive little then we love little.
36:30
(Nicole asks Lisa) "What have you learned in doing podcasting?"
38:30
We have the chance to never stop growing and transforming and God never gives up on us.
39:20
Brave Enough is also an AUDIO book. Find it here.
---
Did you like the show?
Please share it or otherwise support Spark My Muse!
Want to extend the good times and answer the question of the day?
What "bad/negative tape" do you have playing in your head most often?