Here's what I'm doing NOW.
~ DECEMBER 2017 /JANUARY 2018 ~
•  I'm gearing up to go on various podcasts as a guest.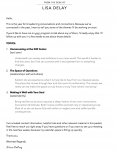 Here is a document about that. (click to enlarge)
• Producing and releasing the Spark My Muse program once a week.
• Planning my trip to the On  Being Gathering in February.
---
Please check out the podcast below (or on iTunes) and pick a SUBSCRIBE option so you don't miss a thing.
Subscribe to
Spark My Muse
Or subscribe with your favorite app by using the address below
---
I'm looking for interesting and creative people doing interesting things.
Do know anyone who might want to come on my podcast? Contact me!
---
Do you think we can collaborate well?
Contact me!