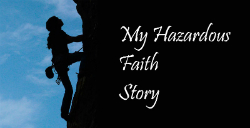 Today, I'm sharing My Hazardous Faith Story as part of a synchroblog connected with the release of Ed Cyzewski and Derek Cooper's new book Hazardous: Committing to the Cost of Following Jesus.
If you have a story to share, you can join in! Here's how: Click and Be HAZARDOUS.
For me faith that's Hazardous doesn't usually involve sexy and cool stories that would make for good reading. Something where I could say, "I had $4 in the bank, but God called me into a remote Amazon rainforest where tribesmen found white-looking people to be delicious. I was brave. I didn't care about the danger. I just went."
My hazardous stories are lackluster. The soft kind. The ones that pick insecurity over comfort or thwart ambition in everyday life. Yes, taking a risk to be trained at seminary even though it wouldn't really help my resume, or a discernible return for my investment was sort of hazardous, but it's not so noteworthy.
It's the common things like committing to people who need me, or need help when it doesn't serve my interests, and may even be painful. Keeping on, when others pull out. And plenty of times I go softer still. I don't do the hard hazardous thing. I cave.
Putting my faith first always seems ridiculous until that moment when God shows up. Then things fit into place. My faith seems founded. The trouble is I can't work it backwards and feel better at the beginning.
I was driving back from my son's Autism Therapy Program this week, and he turned on the iPod. An old Michael Card song from my husband's collection played and its words brought tears to my eyes:
"To hear with my heart.

To see with my soul.

To be guided by a hand I cannot hold.

To trust in a faith that I cannot see.

That's what faith must be."
I cried because I felt like the waves had been pounding in. I had been losing faith. I hadn't been thinking about being guided by a hand I cannot see. I had felt alone.
But, God is with me. Sometimes the most hazardous part of following God is the danger to my own stubborn ways.
Ed and Derek's book is so much about undertaking what is hard to be a discipline of Jesus when everything around us tries to drag us away from that. The practices of taking spiritual growth and maturity seriously don't make for a comfortable ride. It may take a long time to get the rewards. And the rewards aren't glitzy and give you no street cred.
Nevertheless this path makes us better people. More like Jesus. Better able to weather the typhoons and sharp twists in our stories.