Feb 18, 2013 -
#fail, Christianity, Christians, evil, forgiveness, Holidays, Jesus, Lent, Scriptures, Spiritual growth, suffering, Walking with God
3 Comments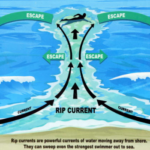 I love this handy-dandy safety chart on riptide. As you swim inland a rip current will prevent you from coming to shore. It will pull you under and drag you out to sea. Even in shallow water a strong swimmer can drown in rip current, so get wise to the wicked water and read it!
In the start of a new series leading up to Easter, my pastor (Jeff Byerly) began on Sunday talking about Recovery. Using themes from the 12 step program (and the Celebrate Recovery organization) he mentioned that even though we don't all suffer the torments of pronounced addictions, the path to healing remains the same. This is one of the benefits of a support group like Celebrate Recovery. It functions like a life guarding outpost when the rip current is subtly strong.
Whether we tend to get into co-dependent relationships, spend time looking at pornography, succumb to retail therapy (shopping), fixate on eating too little (or feel the compulsion to eat too much) our compulsions and hang ups read like a similar story, a human story. A normal story.
The most piercing portion of the talk came when Jeff referenced some thoughts from C.S. Lewis…here I'm paraphrasing from Jeff's paraphrase…but it goes something like…
–Bad people really don't know that much about their badness— (maybe some of you Lewis fans can point me to the exact reference)
In sinning (which is the normal but deadly stuff of life), we go along with things as they come. We don't distinguish much as we do mostly what we please. It's only when we resist, try to consistently do what is right and good and when we try to go against the opposing and fierce force within and without that we run into a kind of riptide trying to pulling us under and kill us. Goodness then is a right mirror showing what still needs work in us. It reflects an ugly picture we don't care to look at.
Paul really fleshes this out in Romans….What a great devotional read this makes. (Go on and click here for that)
So, it is in doing right where we come against the reflecting pool that shows us how bad are really are. Simply because we have terrible failures. We hit a snag. The contrast our need of rescue. Without the challenge of doing what we know is right, we never really assess the weight and scope of our sinful ways. But, my, how unpopular this concept is. Off-putting and out of vague. Time for a few reassuring pats on the back… But try to be unwaveringly good for a while, and we see how true it is.
And how you've ever noticed how self-satisfied people are? It's probably because they aren't making much of an effort at consistently doing what is right. They haven't been humbled by failure. They've rarely seen felt this opposing monster for themselves because the room is too dark.
Maybe you've felt the same way too at times, "Well, I'm not so bad. I'm certain not as bad as most people." Trust me, the day will not pass before this thought is likely to cross my mind as well.
It's that kind of subtle self-dellusion that can thwart our willingness to be a part of the ongoing sanctification of  the Holy Spirit. He works us over and makes us over. It's that mauling process, if you will, that does the hard work. So, Jesus said, "Only the sick need a doctor." He was of course talking to sick people at the time, only they didn't think of themselves that way. There's nothing more hopeless than that.
If we ever went a whole week noticing and noting all the strays from what we know is right and good and set about to only do right…WATCH OUT. The proof of our weaknesses, problems, and short-comings will pop up like an angry bee sting.
Fatigued then, in a fight to do what's right, sometimes we realize it is in he surrender to our powerlessness that we find rescue. It's counter-intuitive as much as swimming out to sea is when you're almost drowning. But it works. This is part of the powerful of observing a season of Lent.
The great relief from sin and that sort of deadly riptide comes from repentance and forgiveness. This theme is never more potent than when we celebrate on Resurrection Sunday. More on this sort of thing in posts to come. Please click for updates (right sidebar)
Have you felt this kind of riptide?
(You can leave me a voice message with your thoughts, if you'd like. Click the voicemail tab on the right)
rip current image found here: www.palmbeachpost.com