Jul 26, 2012 -
Art, Authors, Christianity, Christians, church, Community, culture, hope, Integrating Spirituality, ministry, music, Mysticism, Soul Care, Spiritual Formation, Spiritual growth, Spiritual practices, Spirituality, Story as Life, Theology, Tribe, Walking with God, worldviews, Worship
No Comments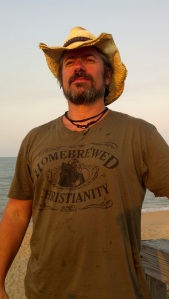 The Gene Anderson joins us today. Gene is a supportive friend, pastor, poet, and percussionist who blogs as he wanders along the Way at Rucksack Revolution and today is enjoying his 49 birthday at the beach with friends. Happy Birthday, Gene.
 What if churches were more like drum circles?
What if churches were more like drum circles? What if the Spirit of Liturgy came from within the common heartbeat of those present, what if dancing and community became the norm, what if diversity became the rule and not the exception, what if there were a…
If churches were more like drum circles, an organic ritual of worship, a natural liturgy would arise from the hearts of those participating, rather than imposing a liturgy on those present.
One love, a common beat composed of individual rhythms, a truly organic worship of unity in diversity would rule the day and rock the house with the Holy Spirit dancing to the sound of heartbeats musically expressed.
Together, individual breath and pulse become common, coming together with the vibration of God's good creation, culminating in koinonia, communitas, and the sacred meal of God's encircling love.
What if churches were more like drum circles?

What if, because the spirit of liturgy and action came from within the hearts and souls of those gathered, actualizing community became present? Imagine a church where worship became dance, a dance of the body, mind, and spirit, a circle dance like the mystical Trinity of Three-in-One and One-in-Three.
Consider "as above, so below".
Contemplate the holy sound and actions of deep bass and strong rimshot combining into wholeness, atonement, shalom, and God's mission to the world through the healing hands of God and the caring human disciples of The Way.
Creation of rhythm as motion and motion as community, community in motion, ordinary radicals, resident aliens of the Kingdom-Life seeking a "better country".
What if churches were more like drum circles?
Imagine a place where diversity is the norm and not the exception.
Conceive community and not corruption.
Give birth to a world of movement through the hands and feet of all people.
Realize the moment of worship and service to God and others.
Heartbeats together in Holy Rhythm.
Play your drum.
- Gene Anderson
"You teach best what you most need to learn." – Richard Bach