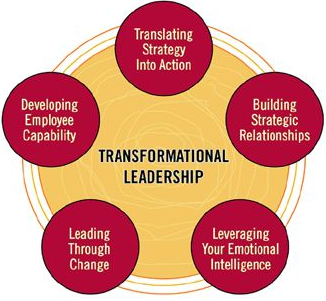 I'm writing the last paper for my class in Leadership and Administration. I'm concentrating on Transformational Leadership Theory.
Here's the crash course for you!
30 years ago Transformational Leadership got some traction and it focused on something nothing else had: Followers.
What motivates and develops Followers created a paradigm shift in Leadership Studies that continues to be researched and written about quite a bit.
(The image shows 5 factors Transformational Leaders employ.)
The 4 Main Components that define Transformational Leadership
The four key components in play[1]:
Intellectual Stimulation – In Transformational Leadership the leader challenges the status quo, encourages creative solutions, and leads followers toward exploring new ways of doing things while offering new opportunities to learn and grow.
Individualized Consideration – In Transformational Leadership the leader offers support and encouragement to individual followers that help to foster supportive relationships among the team, and endeavors to help followers keep the lines of communication open to more easily share ideas. There is also recognition of team members' unique contributions.
Inspirational Motivation – In Transformational Leadership the leader has a clear vision that is articulated to the followers. With this clearly articulated vision followers may share and experience similar passion and stay better motivated to see the vision through to completion.
Idealized Influence – A Transformational leader serves as a role model for her followers. She exemplifies the values she hopes to engender. This builds trust and respect for the leader. (This had been called "charisma" but has grown more nuanced.)
---
[1] Leadership and Performance Beyond Expectations by Bernard M. Bass (1985)
The Book that started it all:
Updated and expanded in 2005