This is Soul School Lesson 66 (SSL 66)

Why Rich or Powerful People Act Beastly, and So Will You.
The social psychology studies on this revealed surprising answers that can help us find, and keep our way! (scroll down for the AUDIO PLAYER)
---
• Be an influencer and share what you've found!

 Send out a Tweet-just like magic.
Just click below:
---
Welcome to Spark My Muse!
and to SOUL SCHOOL.
UPDATED: SHOW DETAILS as of 2017-
Soul School Lessons OR Guest conversations are released each Wednesday
(that is on aka "Hump Day" or Midweek).
• On FRIDAYS, I feature occasional  BONUS episodes. 
---
Please enjoy the program.


If you'd like to give a gift to help the show, you can use the PayPal button below.
Thank you.


---
Today the show notes will connect you to the scientific studies mentioned in the episode.
(Just $1 per gets you these Show Notes, AND the rest of the Show Notes for the whole calendar month-FREE. ! PLUS a coupon for $3 off the clothing below.)



---
AUDIO PLAYER:


Podcast: Play in new window | Download (Duration: 16:14 — 14.9MB) | Embed
Subscribe to Spark My Muse Apple Podcasts | Android | Email | Google Play | Stitcher | TuneIn | RSS | Subscribe to Spark My Muse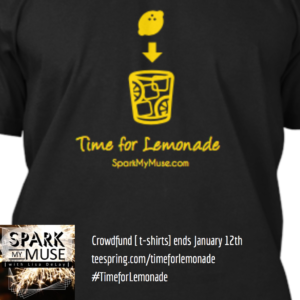 If you like the show, please share it with one other person TODAY, OR write a review on iTunes. Here's a short how-to video.
---
Listen to recent episodes:
---
Pick an option that works best for you!